HORRAH !  HERE IT IS : Renu Advanced.
Have a look at this video.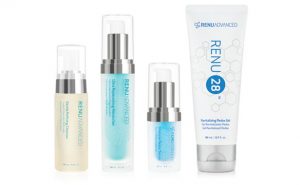 Dr. Sabine Zenker, a German dermatologist was introducedto ASEA Renu28 when she got a "goody bag". Curious as she was she tried the gel and soon became convinced of the quality of the product. She believes that everyone should take care of his or her skin from the age of 20. She has done more research before she had given the gel to her patients. The results it has on the skin of her patients is fabulous. You can view her website at http://www.dr-zenker.de. This site is also in the English language. http://www.dr-zenker.de/en.html
Would you like to have more scientific information than go to the ASEA website.