ASEA has a positive effect on all our cells; it works from the inside out. That means EVERYBODY could profit from these products!
Athletes used it and were tested at the Appalachian State University – North Carolina – VS; they showed a quicker recovery and they experienced a better endurance.
The Germany company 'Dermatest GmbH'  tested Renu28 and noticed a significant improvement of the skin related to blood flow, restore, wrinkle depth and smoothness of the skin. A 5 star certification was given to the nontoxic Renu28. Watch the certificate.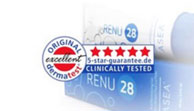 Even doctors are so impressed by the results, that they sell their practices to be fulltime ASEA promoters of these breakthrough products, so helping people to regain their health. Watch one of them tell his story on Vimeo.
LOOK BETTER – FEEL BETTER – LIVE BETTER

Would you like to do this too, go have a look at ASEA opportunity or contact me.